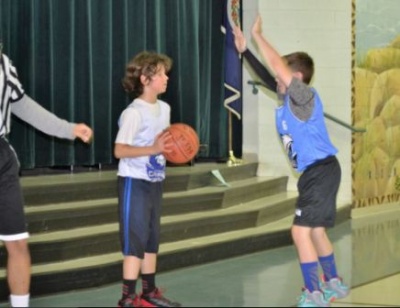 If you are like me and like to keep your children active in sports then living in Prince William County is an ideal place. Every sport is available with many options of competitiveness for your child's ability. Having three kids 5-10 yrs old that are all active the schedule can sometimes be very hectic on certain game days during the season especially when games are scheduled close together.
Even though, winter is still in full swing and we are expecting yet more snow it is time to start thinking about Spring sports. Northern Virginia is a great place for families to get out and get active with many leagues for both children and adults. Our favorites so far are soccer and basketball. It keeps the whole family busy, healthy and everyone makes new friends - it is a win-win!
Basketball is now well underway and we have our 5 year old daughter in her first season with Upwards Basketball at Battlefield Baptist Church in Warrenton. It is a coed team which is very cute to watch! Upward is very popular and you can choose a cheerleading or basketball league starting from Kindergarteners up to 6th grade. Our two boys who are in 3rd and 4th grade play for the Gainesville Griffins which is a great league and more competitive. Boys and girls can start playing with The Griffins in 2nd grade all the way through 12th grade. We have had a great expereince with them and look forward to taking part in our first summer league. Registration is not open for that yet but as soon as it is we are signing up! There is another basketball league that also looks great called the Hurricanes and they have a league starting in March and going through July. Both the Griffins and the Hurricanes have Travel Basketball too. These are 3 great leagues for basketball lovers or beginners and fees are very reasonable - $140 for the first child with the Griffins and $100 for Kindergarten Upwards basketball. There are additional sibling discounts and discounts if you choose to coach or assistant coach.
Now, on to soccer - the league we have signed up for the 4th year in a row is the Virginia Soccer Association (VSA). My 5 year old played her first season in the Fall of 2015 and she loved it. It was co-ed and she had a lot of fun. Kids can start as young as 2 years old in the "Little Gunners" program! Fees are reasonable here too $115 for the boys and $100 for under 5's. Practices are at local schools generally, we practiced at Cedar Point Elementary school and games are at James S. Long Park. Since my boys are in 3rd and 4th grade and both fall into the Under 10 division we requested they both be placed on the same team and they kindly did this for us. It made our life much easier and the boys loved being on the same team.
Another popular league is the Northern Virginia Soccer Club (NVSC) who is the Prince William County DC UNited affliate Club and players can be selected to train and play with the DC United ACademy. That sounds like a lot of fun! Perhaps we'll try out this league next Fall! Games and practices for NVSC are at Hellwig District, Ben Lomond and Valley View District.
The last league is Prince William Soccer Inc. (PWSI) which is based in Manassas and Woodbridge. Registration for soccer ends around the end of February and if you are late you might possibly get on a wait list - at least that is what VSA does. So, there is still time to get the kids involved in a great sport! And watch out for summer registration for the Griffins and Winter registration which begins September 1st. Spots fill up quickly so make sure to register early!