Wentworth Green in Gainesville, VA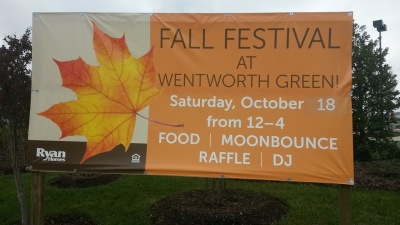 Wentworth Green is a new residential neighborhood located in Gainesville, VA just off of Linton Hall Rd and close to the connecting walking paths to the Virginia Gateway shopping center and Promenade.
Wentworth Green is a community in a great location if you wish to be close to everything with shopping, dining, bars, a movie theater and lots of activities for children from karate, swim lessons, a bounce house to laser tag all within walking distance! It is only minutes away from Route 29 and I-66 for an easy commute to Washington D.C.
The community is holding a Fall Festival Saturday, October 18th from 12 - 4. There will be food, a moon bounce, raffle and DJ. Come out and join the fun and get a chance to experience this new community. You can also tour the model home or check out that perfect lot for your next home!
If you already live at Wentworth Green come meet your neighbors and if not you can still stop by, see the community and enjoy the Fall Festivities!
If you have any real estate or area related questions or you're interested in buying or selling a home in Northern Virginia, contact or call Cleo 1.703.609.7407 & put our team of Northern Virginia home experts to work for you!