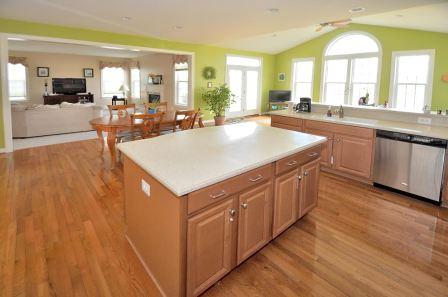 Everyone hopes to get the maximum price when selling their home and not leave any money on the table. As a Realtor it is my job to guide home owners in order to accomplish the task. Understanding the market and knowing the best price to list your home is crucial. If you price it too high you may lose out on current buyers that may have been able to purchase but it is above their budget. You will also risk the home will sit on the market longer than it should making it less appealing to buyers. The right list price will possibly eliminate the potential of the listing becoming stale and saves you time, stress and money in the end.
There are times when an inexperienced Realtor may overprice a listing because they think by telling the homeowner what they want to hear will get the business. Another reason why they might recommend a higher price is they simply did not do a thorough Comparative Market Analysis (CMA). This is why it's always a good idea to interview two or three agents before choosing the right one. In my experience the people who have the most to gain are their own worst enemies because many sellers seem to have their mind set on an unusually high price and may sign a contract with the agent that tells them the highest price, not the one best equipped for the job.
Starting the selling process with the right price is very important. It places the homeowners in command of the future sale and in a position to better negotiate when potential buyers make an offer. Most buyers need to finance and have a maximum mortgage figure that they qualify for. A Realtor must consider a number of factors in order to best determine a competitive price. Zillow's Zestimates are NOT one of these factors I use nor is the price of currently listed homes on the market. We must use real data with currently SOLD homes that are a good match in order to determine the market value. If needed we will expand our search area to find better comparables and it's a good idea to take into consideration the trends currently in play, whether it's seasonal or geographical. In the end it's the homeowners decision as to what the price will be however, after seeing the statistics on recently sold and comparable homes the decision on price is usually clear. Just because a home is exactly the same size as another home that just sold in your neighborhood does not mean it will sell at the same price. Each owner has put their own touches on a home by adding quality finishes to make the home more appealing while others only maintain which also affects the price.
The argument whether home owners need a Realtor is asked over and over. There are proven facts that a home sold by a Realtor spends less time on the market and is sold for more than For Sale by Owner (FSBO) properties. The knowledge that a professional Realtor brings to a transaction from the pricing to the paperwork and negotiation can save not only money but time and stress.
Contact me for a Free Comparative Market Analysis or to ask how I can help you sell your Virginia home.
If you have any real estate or area related questions or you're interested in buying or selling a home in Northern Virginia, contact or call Cleo 1.703.609.7407 & put our team of Northern Virginia home experts to work for you!