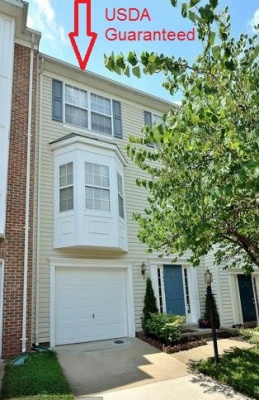 There are three mortgage loan options for those who don't have the money for a down payment but wish to be homeowners.
The first type is the VA loan that is guaranteed by the Veteran Administration and is available to all service men and women, veterans and eligible spouses. The second type is the USDA loan that is guaranteed through United States Department of Agriculture and has geographic and income restrictions. The third is the FHA Plus which I will cover in a separate post.
The VA loan is a military loan guaranty opportunity for returning service members. 20 million veterans have taken advantage of this program! With this type of loan there is 0% down, No Private Mortgage Insurance, competitive interest rates and it is easier to qualify because it is back by the government. In the majority of the country qualifying veterans can buy a home for $400,000+ without any down payment. In each area there are loan limits and in some high cost areas it can be more than this. The loans are still provided by private lenders since the government generally does not provide loans directly to veterans. Instead the Department of Veterans Affairs guarantee the loans that are provided by mortgage brokers such as Veterans United Home Loans and others.
A USDA loan is an affordable housing loan program created and guaranteed by the USDA (United States Department of Agriculture) through The Rural Development (RD) Guaranteed Rural Housing (GRH) Program. The designated areas of the map were set to be changed in October 2014 as many of the target urban development areas have seen tremendous growth since the inception of the program after the census in 2000. The changes have been postponed until October 1st of 2015 so certain areas of Western Prince William County including Bristow, Gainesville, Haymarket and Nokesville remain in the geographical designated areas.
The loans can be for the purchase of a new or existing home or for improvement of current dwelling. The loans can not be for a second home but for primary residence. The loans are fixed rate mortgages that are on 30 year loan duration with no prepayment penalty. The home must be located in a designated rural area which can be viewed here and borrowers household income does not exceed maximum allowable levels. Eligible properties include detached single family homes, condo, factory built or PUD. Some properties that do not qualify for this type of loan are 2-4 units, Co-op, income producing, working farms.
USDA Loans have a fee of 2% of the loan amount due at the time of closing that may be financed into the loan. There is also an annual fee equal to .3% of the loan amount and will be included in the monthly mortgage payment and required for the life of the loan. The fee is based on an annual declining balance.
To be eligible a borrower may not own a primary residence. If they currently own a primary residence then the home should be sold prior to the purchase. The loan is available only to US citizens or resident alien with Green Cards, have a social security number and all borrowers must be screened to determine if the applicant is delinquent on any federal debt. Title must be placed in individual names and are not permitted to be in LLC. Trusts, etc. At least one of the borrowers must meet a minimum FICO score of 600.
If you are considering purchasing a home and you qualify for one of these options please feel free to contact me and I can help you get started on your path to home ownership.
If you have any real estate or area related questions or you're interested in buying or selling a home in Northern Virginia, contact or call Cleo 1.703.609.7407 & put our team of Northern Virginia home experts to work for you!