If you want to see efficiency at its' best then buy a brand new home from Ryan homes. Whether you use Ryan or any builder, always use a real estate agent to represent you when buying your new home having someone to represent you is always a good idea. The sales associates for the builders are very good at their jobs and you will need an agent on your side to be able to explain as you go through the process as it is a very fast, effiecient and competitive business.
Once we decided on Ryan Homes and the desired plot on a cul-de-sac we signed the contract and paid the down payment (May '09). Our sales persons turned their attention from the tough negotiator into cu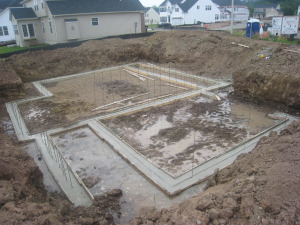 During the pre-construction meeting we were told the schedule of home building and how the process will proceed and an expecxted move in date of September 1st providing the weather, cooperates. The first step, the basement being dug out and the foundation being laid was especially important weather-wise. As the project manager said you can't poor concrete in a swimming pool.
After living in Cyprus and experiencing the way things work there, it was a breath of fresh air when I arrived at the building site on June 26th to find the deep hole in the ground where our basement will be and the concrete footers already poured. It is truly amazing how fast the process was moving forward, within a few days without any rain, they were ready to pour the cement for the basement walls.
The project manager was updating me on what to expect from week to week and if I had any questions he was always ready to answer them. I have been watching properties being built in Cyprus for the last three years and as much as I hate to say it, things never worked this efficiently. I shared the frustration of delays with many clients along the way. However, this is America and if you want to stay in business for 60 years, which my builder has, then you better know what your doing and do what your saying!
I have free time now to be able to come by my home work site on a daily basis and I think it is so amazing how fast everything is coming together. The construction has actually moved so fast that it has left me a little behind on my blog. So what I will do in the next blog is show pictures with details dates to follow along the construction process.
I am doing this for three main reasons:
To let all who are building a new home have a small advance knowledge of the building process.
To let my friends and associates who have never been to the U.S. or out of Cyprus get an idea how homes are built in the U.S.
Finally, to provide good relevent information for my website (and it's SEO efforts).
Stay tuned!
If you have any real estate or area related questions or you're interested in buying or selling a home in Northern Virginia, contact or call Cleo 1.703.609.7407 & put our team of Northern Virginia home experts to work for you!