September 6th was the first day of school and as new parents of a Kindergarten student we felt the normal nervousness about sending our first born out into the world. Luckily, we feel very fortunate to be living in Northern Virginia and in Prince William County. There are several brand new schools in the area and my son attends one of them - Piney Branch Elementary School. There are 3 other new schools - Patriot High School, and 2 Montessori schools that also opened their doors in 2011. Our experience has been with Piney Branch and so far it has been fantastic.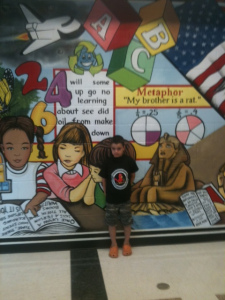 We watched Piney Branch being built on Linton Hall Road and we saw my sons excitement and nervousness build up until it opened it's doors. The school held a ribbon cutting and dedication ceremony and the usual "Meet the Teacher" day. We had a tour of the school which is fantastic. The murals and paintings on the walls are fabulous and the modern computer room and other facilities are beyond what we could have imagined. It is a long way from the schools we had as kids thats for sure!
A brand new building, desks, gym and all the rest of it is of course nice but the most important thing is the staff. And, from our experience so far they are also great. They are very excited to be there, warm and friendly. My son being a Kindergarten student is of course nervous and since there are a few that are a little more nervous than others they have a small "Lunch Bunch" for "Calming the Butterflies" which my son loves and it has really helped him settle in.
A fundraising event was also planned and which really got the kids motivated. My son was so excited to take part in the Boosterthon Fun Run and loved the guys who ran the event. They did a great job preparing them for the Fun Run.
All in all, we couldn't be happier with the Principal, the Vice Principal, my sons teacher - Mrs Meyers and the all the other great staff we have met! Oh, and a fabulous and very patient bus driver who is extra sweet to my nervous bus rider!
Go Piney Branch Cardinals!!!
If you have any real estate or area related questions or you're interested in buying or selling a home in Northern Virginia, contact or call Cleo 1.703.609.7407 & put our team of Northern Virginia home experts to work for you!