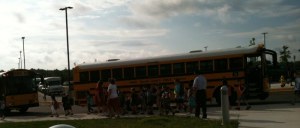 I just had a customer contact me today about a home in Gainesville that had Glenkirk Elementary, Bull Run Middle School and Battlefield High school as the schools for the homes address. The person wanted to know if these were the right schools because they were thinking the information was not updated. I did a search for near by homes and I found a home on the next street that had three totally different schools listed (Buckland Mills Elementary School, Gainesville Middle School and Patriot High School) so I wasn't sure which ones were correct.
I began my search for the right information and after hitting a few non useful pages and struggling for any good information, I found a very useful website for looking up schools in Prince William County.
The search page asks for three things ( Street number, Street name and Street type) in Prince William County to complete the search. The results I found for the address of the home inquired about in Zip code 20155 from the site are below. They also have links attached to them directing you to the schools. This should be the most accurate site for finding out your school district by street in the county. I hope to find similar resource for the other counties in Northern Virginia and when I do I will update this post.