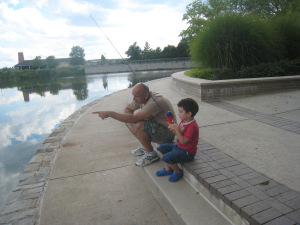 Efficiency, services, price, value and location are good reasons for buying a home in suburban Northern Virginia. I left out the most important reason, to have a home for my family! Currently I am a walking advertisement for Ryan homes who is building my home, my real estate agent who helped me find the home, Virginia, Northern Virginia and the U.S.A. I am building in Gainesville, VA after being overseas for 3 years. Coming back was a great idea and we feel it was perfect timing, good planning and some good luck that has made the move back easy even with two toddlers.
I have had surprisingly good luck lately and some nice coincidences - almost too many!
I am not sure if it is luck or good decision making that has made our move from Cyprus back to Northern Virginia seamless, stress-free and extremely pleasant.
An example of a nicety is how quickly my wife has been able to find friends for my children and for us in such a short time since we came back from Cyprus. When we first came back we stayed with my sister in Chantilly for about a month and then took a two bedroom apartment nearby in Centreville on a four month lease until our home was built. She met a mother with two children that are the same age as our children that have also purchased a single family home in Bristow. When we all move next month they will be living one block away from us – even closer than they are now in the apartment complex. How strange is that we move into an apartment for a four month lease and meet someone who will be our neighbor 20 miles away??
If you have any real estate or area related questions or you're interested in buying or selling a home in Northern Virginia, contact or call Cleo 1.703.609.7407 & put our team of Northern Virginia home experts to work for you!