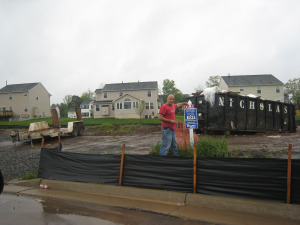 We originally wanted to buy a single family home in Chantilly, Virginia or near by in Centreville because my sister lives there and we new it was a good area since we lived lived in Centreville a few years back. We also wanted to be in Fairfax County because it has a great reputation and statistics as the top or one of the top counties to live in as far as schools, crime and family life go.
We realized within the first week of our real estate and home search that we would not be able to buy a home in our area of choice. Fairfax county's prices were still high and for what I wanted to spend we could only get a new townhouse or an old home that will need many upgrades. We would have to pay much more than our budget allowed.
We also realized that the game to play will not be easy, the banks are doing a great job of keeping the number of homes available less than how many buyers are in the market and therefor keeping prices from falling any further. If we wanted to find a bargain property then we should be prepared for waiting a while with possibly many disappointments. We did not want to wait, We felt that this was the best time to buy and it was becoming obvious what the right option was.
After looking at many different properties and compared prices, size, location, upgrades and other features we chose to buy a new home.
We will get a brand new, single family, brick front home with a porch, four bedrooms, office, sunroom, basement and on a quarter acre lot in a cul-de-sac in a nice community in Prince William County which is west of Fairfax, about 10 miles outside of Fairfax county.
Compared to all the other options we felt it was a no-brainer. Basically new and used home prices were at about the same price resale homes in the area were between 5 - 10 years older and most were on much smaller plots, about 7,000 square feet. The plot we chose is on a 10,000+ square feet plot, not bad but when we had the choice of a new home compared to resale it was like I said a no-brainer! If you can wait a few months for the home to be built then I would go for it.
If you have any real estate or area related questions or you're interested in buying or selling a home in Northern Virginia, contact or call Cleo 1.703.609.7407 & put our team of Northern Virginia home experts to work for you!