Prince William County Keeps Growing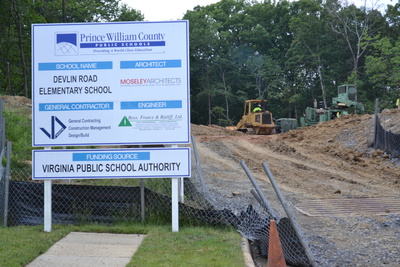 On March 1st, 2014 work began on the site of the new elementary school that will be located at 12612 Fog Light Way in Bristow. There has been regular blasting of rock for those who live close enough to hear it, the trees are down and they are almost ready for the foundation. The official groundbreaking was on May 29th, 2014 and the school should open its doors for the 2015 school year.
This new school which is now being called "Devlin Road" school will be renamed at a later date and is expected to relieve crowding at Victory Lakes elementary school and projected overcrowding at T. Clay Wood.
The school is modeled after the two newest schools in the area - Piney Branch Elementary and T. Clay Wood. It is costing over $20 million to build and will feature over 100,000 square feet with room for 850 students including 6 kindergarten classes, 12 primary classrooms, 17 intermediate classrooms and 2000 sq. feet of dedicated special education classrooms.
If Piney Branch is an example of what to expect from this new school it will certainly be state of the art from the computer lab to the front office with security intrusion detection to the 19.9 acre outdoor space. It will also qualify for LEED accreditation which is Leadership in Energy and Environmental Design which means the schools design and construction is aiming to reduce waste, increase performance and improve quality of life.
We are excited to watch the development of this new school being constructed and are always amazed with the progress. If you have any questions about the schools, neighborhood or have anything to share we would love to hear from you!
If you have any real estate or area related questions or you're interested in buying or selling a home in Northern Virginia, contact or call Cleo 1.703.609.7407 & put our team of Northern Virginia home experts to work for you!