Bristow Virginia Home Sales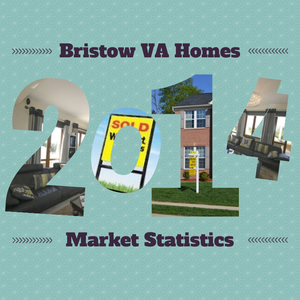 If you live in or are interested in buying a home in Bristow, Virginia which is also the entire 20136 zip code then this report will be a handy resource to see how the housing market is doing and what to expect. I hope you find the information useful.
The total volume sold in February 2014 was $10,210,950 that's 13.13% less than 2013 which was $11,753,950. The total number of homes sold was 27 compared to 32 sold last year. The shortage of inventory seems to continue this year as the numbers stay low with only 57 active homes for sale in the market compared to 60 in February last year.
Bristow homes are selling fast

Out of the 27 homes sold in February 7 were sold in 1 to 10 days, 2 in 11 to 20 days, 4 sold in 21 to 30 days, 5 sold in 31 to 60 days, 2 sold in 61 to 90 days, 5 sold in 91 to 120 days and 2 between 121 to 180 days. The overall average of days on the market during this period was 52 days.
There were 11 attached and 16 detached homes sold at a medium sold price of $385,000 an increase of 6.21% year over year and 1.85% month over month. The average sold price compared to the original list price was 96.59% of the price a decrease of -0.99%
Bristow House Shortages = A Sellers Market

Today (March, 25,2014) there are 57 active listing for sale in Bristow, Virginia with 36 properties being detached homes. The low numbers indicates that we continue to experience a shortage of inventory and you will find many subdivisions in Bristow without any homes for sale. If you are looking to buy in Bristow and you have a particular place that you desire then it might be tough or impossible to find. If you are a seller then you should have no difficulty selling your home if you price it correctly. Obviously you want to get the best price possible but you should not over price as this may hurt the chance to get the best price. Even in a sellers market an over priced home can turn off buyers from even looking at the home and may never look at a house they might fall in love with. Don't drive possible buyers away, price the home at a fair market price and let the market dictate what the sale price will be.
These figures shown above were gathered from http://www.rbintel.com and from http://www.mris.com
If you have any real estate or area related questions or you're interested in buying or selling a home in Northern Virginia, contact or call Cleo 1.703.609.7407 & put our team of Northern Virginia home experts to work for you!